Learn how to get started with UniFi, set up your devices, and use the UniFi Network application to manage your new UniFi Network.
UniFi Network overview
UniFi OS Consoles
UniFi Network is part of the UniFi OS ecosystem of applications - just like Protect, Access, and Talk. It is designed to run on a UniFi OS console, such as the Dream Machine Pro; you can learn more about other UniFi OS consoles here.
A UniFi OS Console serves as a centralized management platform for your UniFi devices and applications. You can remotely access your console from anywhere in the world by logging in to your UI account at unifi.ui.com. Additionally, you can remotely manage your console with the UniFi Network and Protect mobile apps—completely free of charge.
UniFi OS Consoles for Networking
Network Components

UniFi Network App

Pre-installed on console

Pre-installed on console

Pre-installed on console

Gateway

Built-in

Built-in

Adopt in Network app

WiFi Access Points

(1) Built-in AP;
Adopt more in Network app

Adopt in Network app

Adopt in Network app

Switches

(1) 4-Port Gigabit switch;
Adopt more in Network app

(1) 8-Port Gigabit switch;
Adopt more in Network app

Adopt in Network app

Smart Power Devices

Adopt in Network app

Adopt in Network app

Adopt in Network app
The UniFi Network application
UniFi Network comes pre-installed on UniFi OS Consoles. This application serves as the control center for your entire network. Here you can set up new WiFi networks, get detailed insights about client devices on your network, perform advanced networking configuration, and more.
Decide which UniFi OS Console is right for you with our comparison table.
UniFi Network devices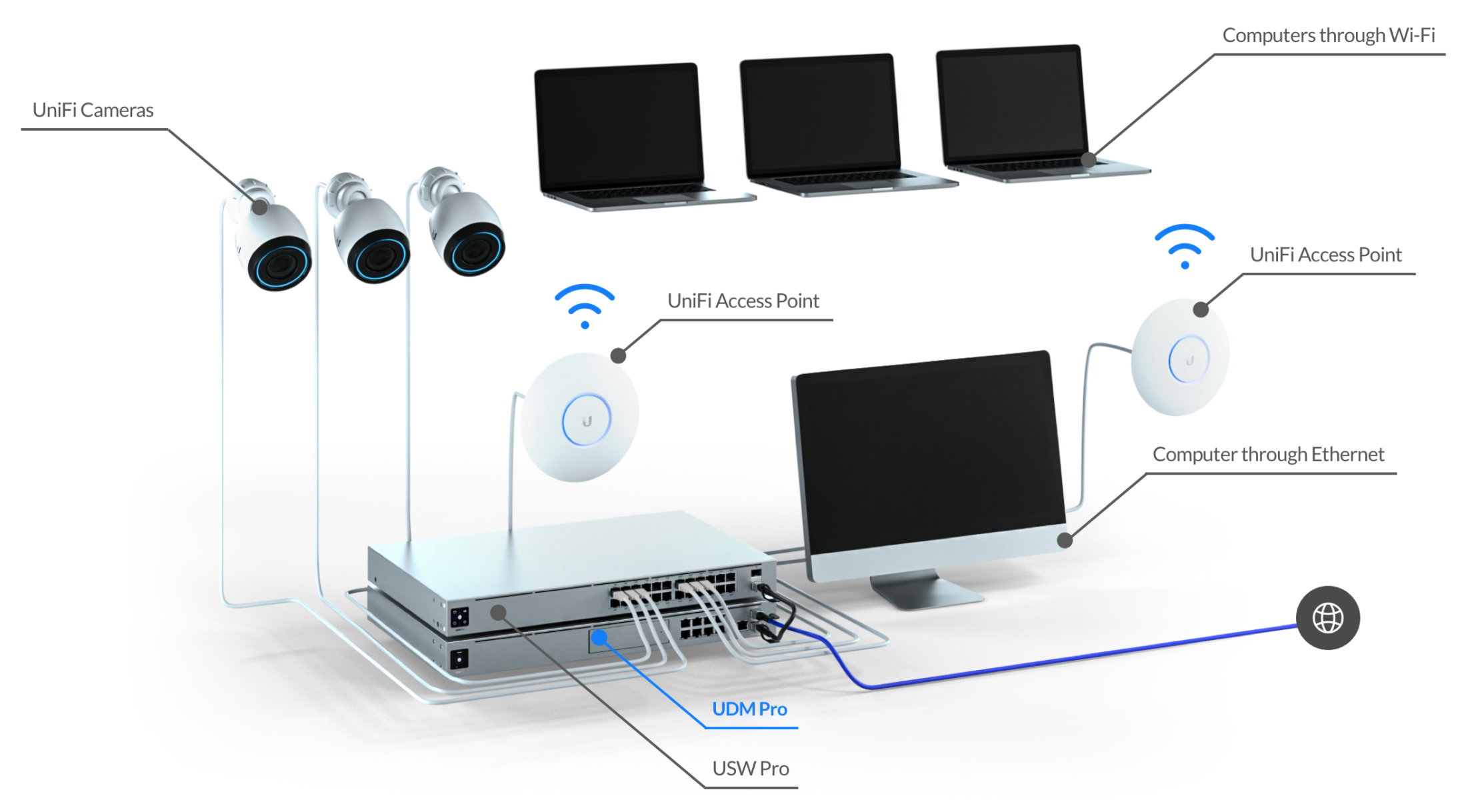 A typical UniFi Network system consists of one gateway, one or more PoE switches, and WiFi access points.
Gateways

act as a main firewall for a network, placed between an internet connection and local network. We recommend using the UDM Pro as your gateway for the best UniFi experience.

Switches

are typically added behind the gateway to provide network connectivity to several wired-network-connected devices or access points. Power-over-Ethernet (PoE) switches can power devices along with connecting them to the network.

Access points

are used to broadcast WiFi over a given area. You can place several different access points across a site to provide the whole area with one or more, common WiFi network(s).
These overview videos can help you decide which switches and access points are right for your system:
Planning your network deployment
Start by deciding where you will position your access points and switches throughout your site. As you plan, keep in mind a few basic tips:
To optimize WiFi coverage, access points should be mounted on a wall or ceiling.

Some switches (e.g., USW Flex and USW Lite) and gateways (e.g., UDM) are designed to be low-profile for use anywhere, while others designed for larger deployments should be rack-mounted in a central location at your site.

UniFi devices are intended to be powered by PoE switches. Make sure your PoE switch can supply sufficient, compatible power to your devices (i.e., PoE, PoE+, or PoE++).
If you are not using a PoE switch, you can also use a compatible PoE injector.

For most deployments,

Ethernet cables

are sufficient. If you're looking for faster speeds, however, consider using

SFP+ cables

to connect rack-mounted devices to one another.
You can also visit design.ui.com to plan your UniFi system with our free deployment visualization tools.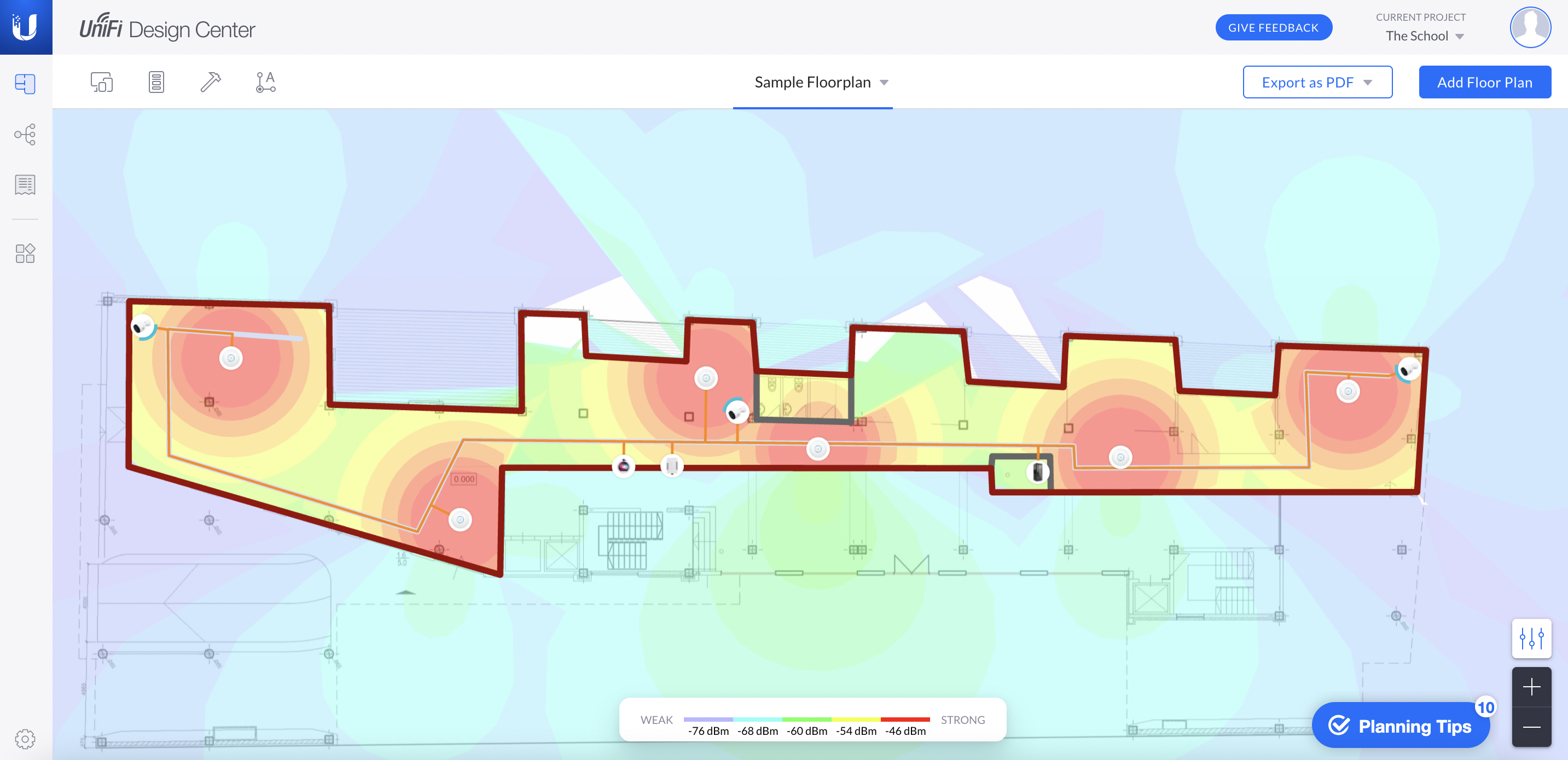 Set up UniFi network
Once you've purchased your gear, you can wire it up and begin adopting devices with the UniFi Network application. After everything is adopted, you will be able to configure all of the settings you will need to get started.
Download the UniFi Network mobile app
The UniFi Network mobile app is designed to mirror key functionality of the web application and provides a convenient way to manage your UniFi deployment on the go.
To get started, download the UniFi Network app from AppStore or Google Play and sign in with your Ubiquiti Account.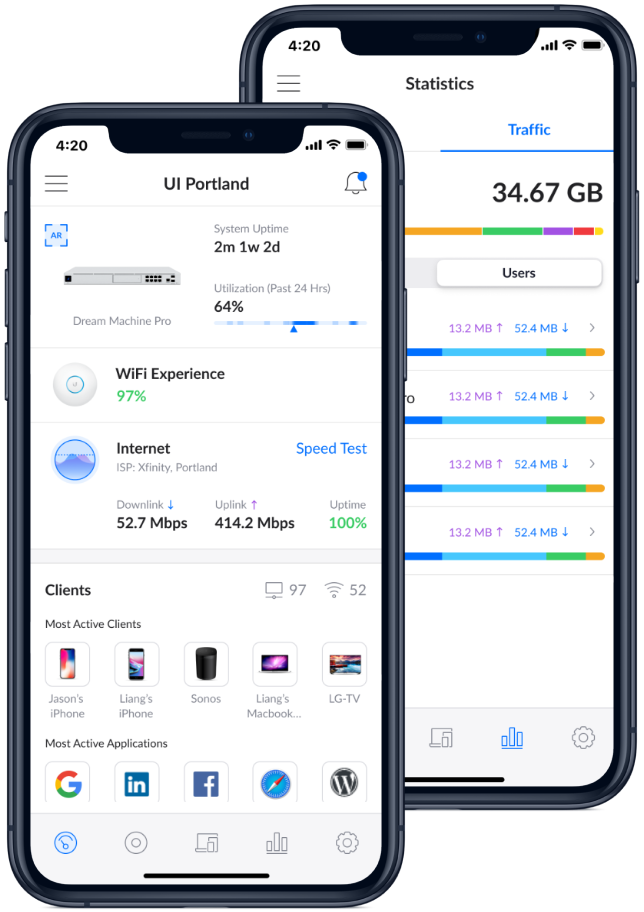 Set up your UniFi OS Console
The first step in setting up your UniFi system is to set up your UniFi OS Console. If you are using a Dream Machine or Dream Machine Pro, then this step will also entail setting up your gateway.
Setting up a UniFi OS Console is easy. Start by connecting your console to the internet and powering it on. In the UniFi Network mobile app, log into your UI account and wait for the setup prompt to appear on your screen. Follow the on-screen instructions and you'll be up and running in just a few minutes!
For additional setup assistance, visit our setup guides:
Adopt UniFi devices to your network
Once your UniFi OS Console is set up, you will be able to adopt other UniFi Network devices through the Network mobile app.
When you open the Network mobile app, you will be prompted to adopt your connected switches and access points. If you don't see the pop-up prompt, open the Devices page. You will see a list of discovered UniFi devices with a Pending Adoption status. From here, you can tap each device, then tap Adopt on the following screen.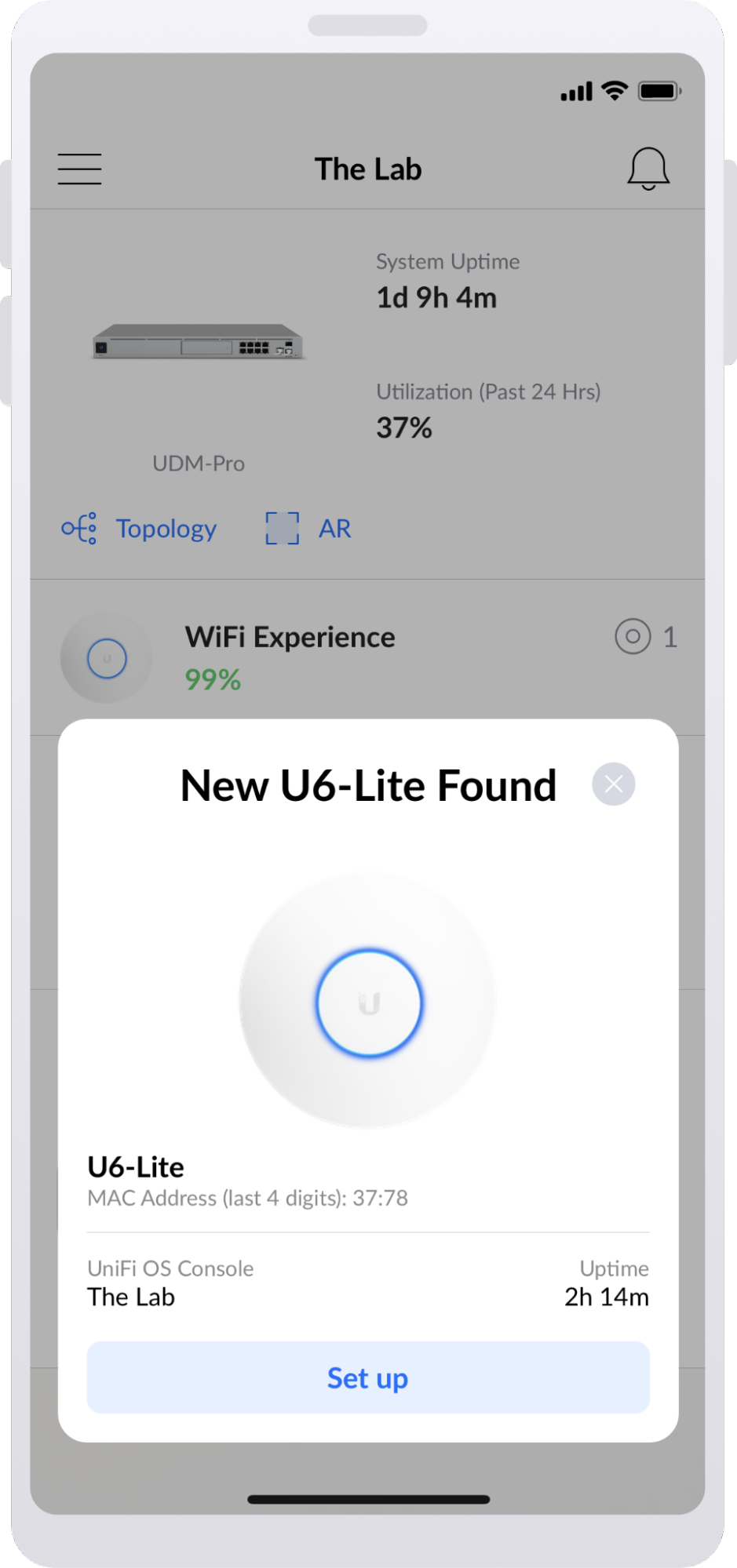 If you prefer to set up your devices from your desktop, you can launch the Network application from unifi.ui.com, open the Devices page, select each discovered device, and adopt them from their respective property panels.