Overview
Readers will gain knowledge of how and where to configure custom DHCP options for the UniFi Security Gateway in the UniFi Network Controller.
NOTES & REQUIREMENTS:
Devices used in this article: UniFi Security Gateway
Table of Contents
Introduction
DHCP options are flexible parameters used for a variety of purposes. The options come in the form of text, hex values, integers, boolean statements, MAC addresses, or IP addresses. Default options are already used by most devices on the network today. This article will explain how to configure options outside of the standard set. For introductory information on DHCP please see this article: Intro to Networking - Dynamic Host Configuration Protocol (DHCP).
Steps: Creating and Apply DHCP Options
Creating the Custom DHCP Option
1. In the UniFi Networks Controller, navigate to Settings > Services > DHCP > DHCP Options.
2. Select Create New DHCP Option.
3. Give the DHCP option a name. This name is only relevant for reference.
4. Select the code number.
NOTE:Some code numbers are not available from custom options. The reason is that the options are already defined under Settings > Networks per network. This article covers where those options are defined further down.
5. Select the type of DHCP option.

Applying the Custom DHCP Option
1. In the UniFi Network Controller, navigate to Settings > Networks.
2. Edit or create a network.
NOTE:Only networks in which DHCP server is enabled are eligible for using these custom DHCP options.
3. Click on the Advanced DHCP Options header to expand this section.

4. Under Custom DHCP Options the custom DHCP option will show as available for input.
5. After making delegations to the custom DHCP option click Save near the bottom of the page.
Pre-defined DHCP Options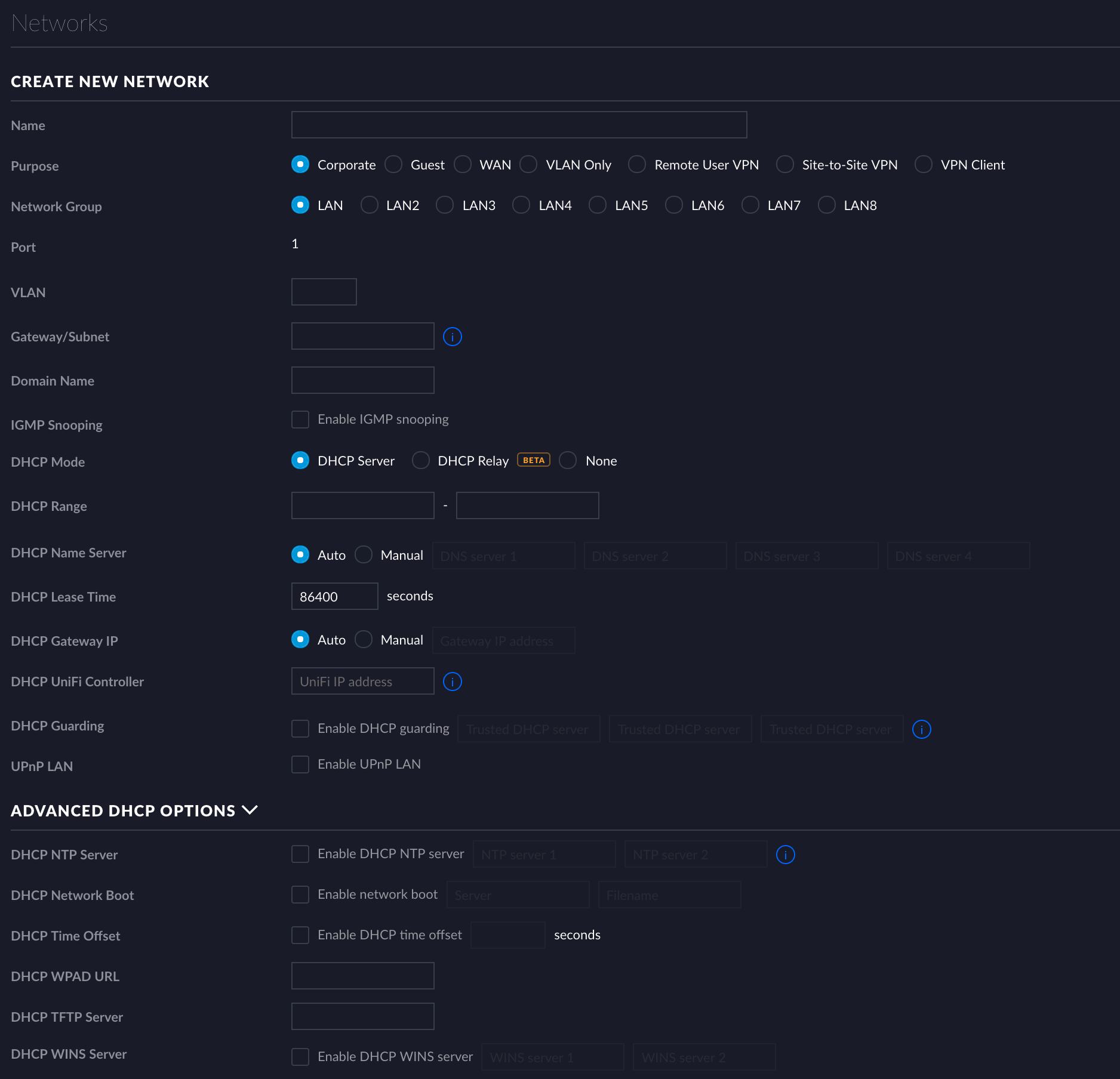 DHCP UniFi Controller - Option 43 (IP Address)
DHCP NTP Server - Option 42 (IP address)
DHCP Network Boot - Option 66 (Server) Option 67 (Filename)
DHCP Time Offset - Option 2
DHCP TFTP Server - Option 66
Related Articles
Intro to Networking - Dynamic Host Configuration Protocol (DHCP)