UniFi - SFP Modules and DAC Cables
SFP modules and DAC cables are used inside SFP28/SFP/SFP+ slots on UniFi or client devices. These type of slots allow for versatile connectivity options using different types of cabling:
DAC Cable - Cables with an SFP+ or SFP28 connector that provide 10Gbps or 25Gbps speeds.
SFP+ Modules - Copper or fiber modules that provide 10Gbps speeds.
SFP Modules - Copper or fiber modules that provide 1Gbps speeds.
SFP28 Modules - Fiber modules that provide 25Gbps speeds.
Each SFP module is rated for a maximum supported cable distance, above which the connection will not establish. See the SFP Modules & Cables section of the UI Store for a streamlined way of selecting a product based on your requirements.
DAC Cables
DAC cables are used for establishing connections of 10Gbps or 25Gbps across short distances, often between devices in the same rack.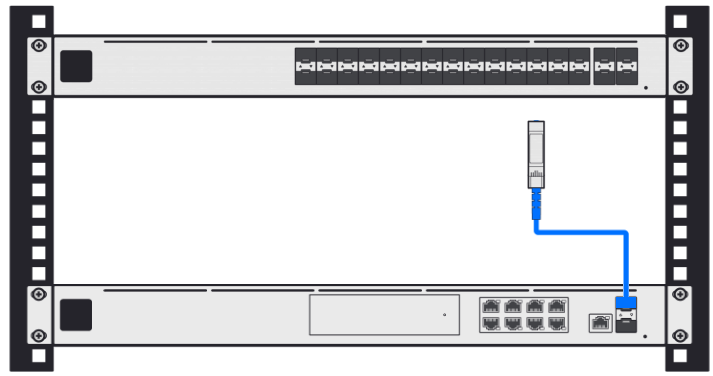 Connecting a rack-mounted USW-Pro-Aggregation and UDM-SE at 10Gbps speeds using a UACC-DAC-SFP10-0.5M DAC cable.
SFP/SFP+ Modules
SFP and SFP+ modules have various applications:
Connecting two devices over a long distance using fiber cables.
Connecting a computer directly to a UniFi switch or gateway at 2.5/5/10Gbps speeds.
Connecting a UniFi gateway to an ISP modem at 2.5/5/10Gbps speeds.
Note: SFP modules provide 1Gbps speeds and SFP+ modules provide 10Gbps speeds.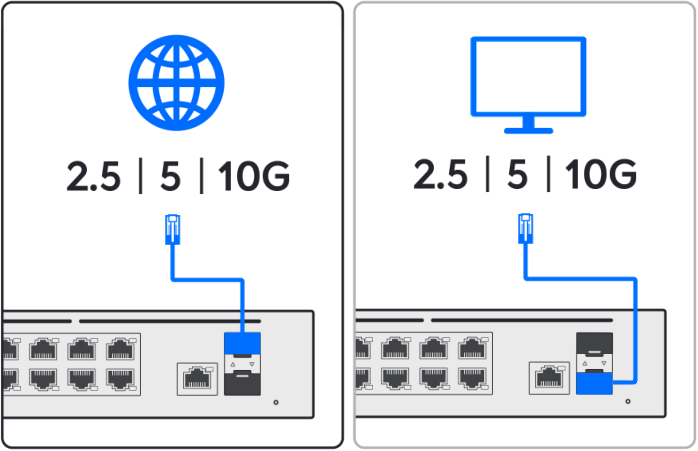 Connecting a UDM-SE to an ISP modem on the WAN and a computer on the LAN using the UACC-CM-RJ45-MG at 2.5/5/10Gbps speeds.
SFP28 Modules
SFP28 modules are used to provide high speed 25Gbps connections over a long distance using fiber cables. For example, use the UACC-OM-SFP28-SR to connect the USW-EnterpriseXG-24 and USW-Pro-Aggregation over a 100m distance.
Frequently Asked Questions
1. Can UI SFP+ modules and DAC cables be used in SFP slots?
Yes, SFP+ modules such as the UACC-CM-RJ45-MG and DAC cables such as the UACC-DAC-SFP10 support both 1Gbps and 10Gbps speeds.
2. My ISP provides a 2.5 or 5Gbps modem. Which SFP+ module should I use?
For 2.5 or 5Gbps, use the UACC-CM-RJ45-MG module which supports 1/2.5/5/10Gbps.
3. I want to connect devices at around 300ft / 100m at 10Gbps speeds. Should I use a fiber or copper module?
Our UACC-CM-RJ45-MG SFP+ module supports distances up to 300ft / 100m, however this also requires using high quality Ethernet cables.

If you are not sure about the quality of the cables, then we recommend to use Multi-mode or Single-mode fiber modules instead.
4. My Ethernet 10Gbps connection is not establishing over a longer distance. What could be the issue?
10Gbps Ethernet connections over a longer distance require high quality cables.

If the connection between two devices does not establish when using the UACC-CM-RJ45-MG or UF-RJ45-10G, then we recommend to test using a short (3ft / 1m) cable. If the connection establishes, then there is likely an issue with the longer cables.
5. Can I use third-party SFP modules or DAC cables with UniFi devices?
We do not impose any artificial restrictions to limit third-party SFP modules or DAC cables. However, we also do not formally test these. As a result there may be some modules or cables that are not fully compatible with UniFi devices. See the SFP Modules & Cables section of the UI Store for officially supported equipment.

Usage of a third-party SFP module or DAC cable comes with the following risks:
The connection may not establish or drops randomly.
The performance over the connection is affected due to an incompatibility.
A module that doesn't work well can run at a high temperature.
A module that is claimed to be working by others does not actually work.
Some hardware revisions of the same module work but others do not.
A module may work with a certain device or release, but not on others.
Was this article helpful?
414 out of 615 found this helpful