Streamline Device Security and Admin Productivity with UniFi Identity Enterprise MDM
MDM is a comprehensive solution that addresses the growing challenges in today's dynamic work environment. It empowers IT admins to efficiently and securely enroll, configure, and manage devices used for work purposes.
Notes:
Currently, Identity Enterprise MDM only supports enrolling and managing Windows PCs and Macs.
Identity Enterprise MDM is an early access (EA) feature. To apply for a free trial, please use your owner account to sign in to your Identity Enterprise Manager and go to Settings > Plan > Workspace Plan > Apply for Plan Add-Ons.
Why Is MDM Solution Important
Nowadays, the substantial amount of data stored and exchanged on employees' devices has made them susceptible targets for malware, hacking attempts, and exploitation. IT admins face significant challenges in protecting these devices and the sensitive data they contain. These challenges include:
The growing reliance of employees on both corporate-provided and personal devices for their duties. 
The ever-changing diversity of devices, operating systems, and applications. 
The increasing number of remote workers.
A comprehensive MDM solution helps IT admins overcome these challenges and achieve the following tasks:
Distribute software and policies, and update devices, software, and policies at scale.
Ensure the consistent operation of devices.
Monitor and track device information, including status, ownership, and admin activity.
Streamline device diagnosis and troubleshooting remotely.
How Identity Enterprise MDM Works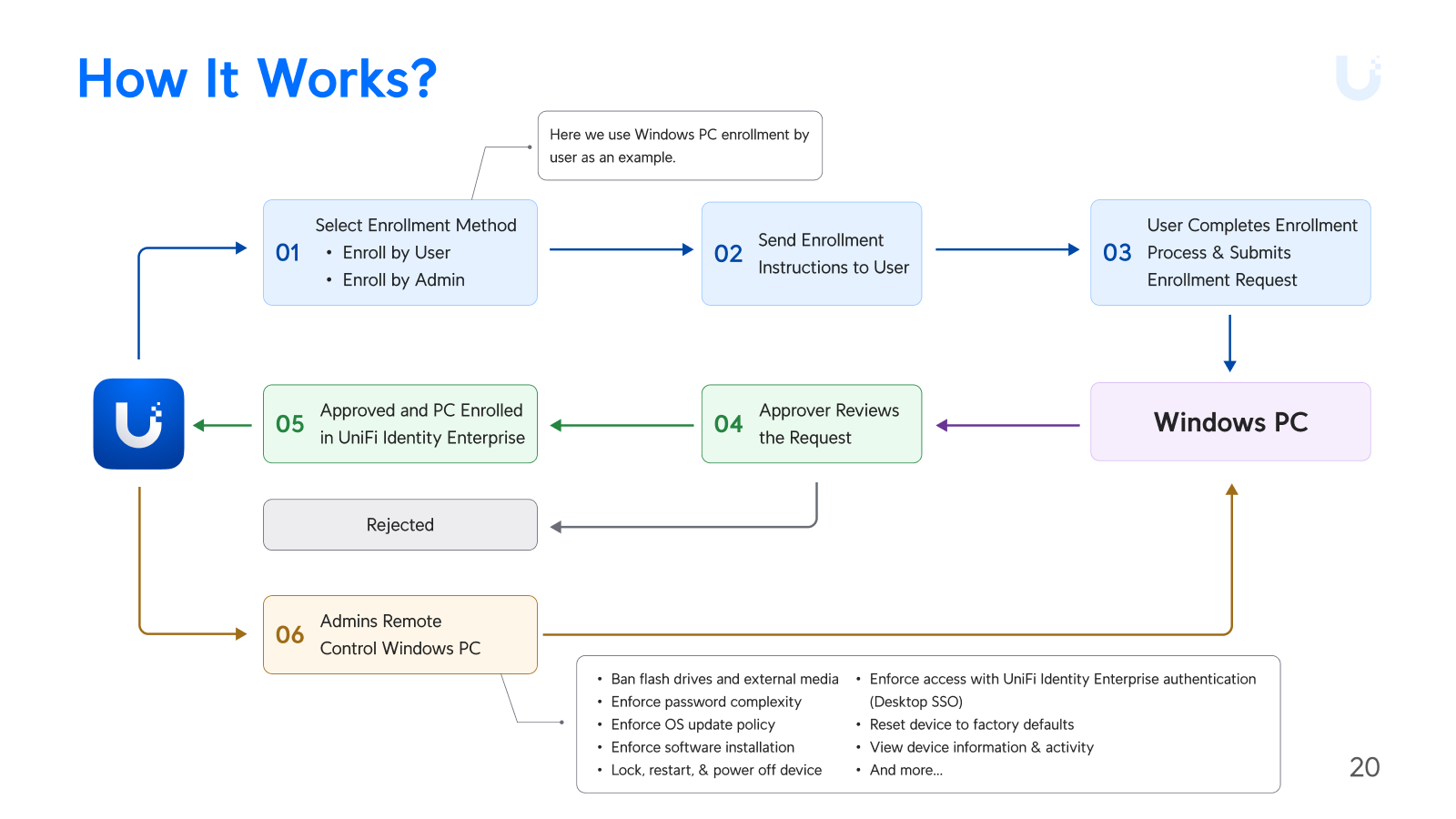 Provision Devices with Ease
Identity Enterprise MDM offers flexible device enrollment options:
Admin Enrollment: Admins can download macOS profile files or use a magic link for Windows PCs to enroll workspace users' devices. Admin enrollment is an ideal method for enrolling only one or a few devices.
User Enrollment:

Streamline bulk enrollment: Admins can simultaneously invite multiple users to enroll their macOS or Windows devices.
Auto instruction notifications: UniFi Identity Enterprise sends the necessary information and instructions via email and push notifications to the selected users.
Approval process: After users complete the self-enrollment process, their enrollment requests will be sent to approvers through emails and notifications for device enrollment approval.

Device Enrollment Program (DEP): An Apple program that automates the enrollment of new or factory-reset Macs into UniFi Identity Enterprise upon device activation.
Identity Enterprise simplifies device assignment and unassignment, including other resource assignments such as One-Click WiFi, One-Click VPN, and door access policies, enhancing user provisioning and de-provisioning.
Streamlined Remote Management
Swift Response: Respond swiftly to emergencies by easily pushing commands such as lock, power off, and factory reset to MDM-enrolled devices when a device is lost. 
Distribute MDM Policies in Bulk: Push configurations, packages, and customized profile files to the MDM-enrolled devices of specific users, roles, or groups through MDM policies. Learn more
Comprehensive Device Inventory: Access a centralized view of all BYOD and corporate-owned devices, displaying ownership, status, and basic information like device models, OS versions, and applied MDM policies.
Effortless Software Management
Software Inventory: Identity Enterprise automatically collects and organizes installed software data. This allows admins to assess the software landscape without infringing on the personal information stored on users' personal devices.
Distribute Software: Simplify software distribution for devices with the Identity Enterprise desktop app sign-in, allowing hassle-free updates and application deployment.
Software Installed Reports: Detailed reports on the software installed on each device are invaluable for ensuring compliance, tracking software installation, and identifying potential vulnerabilities.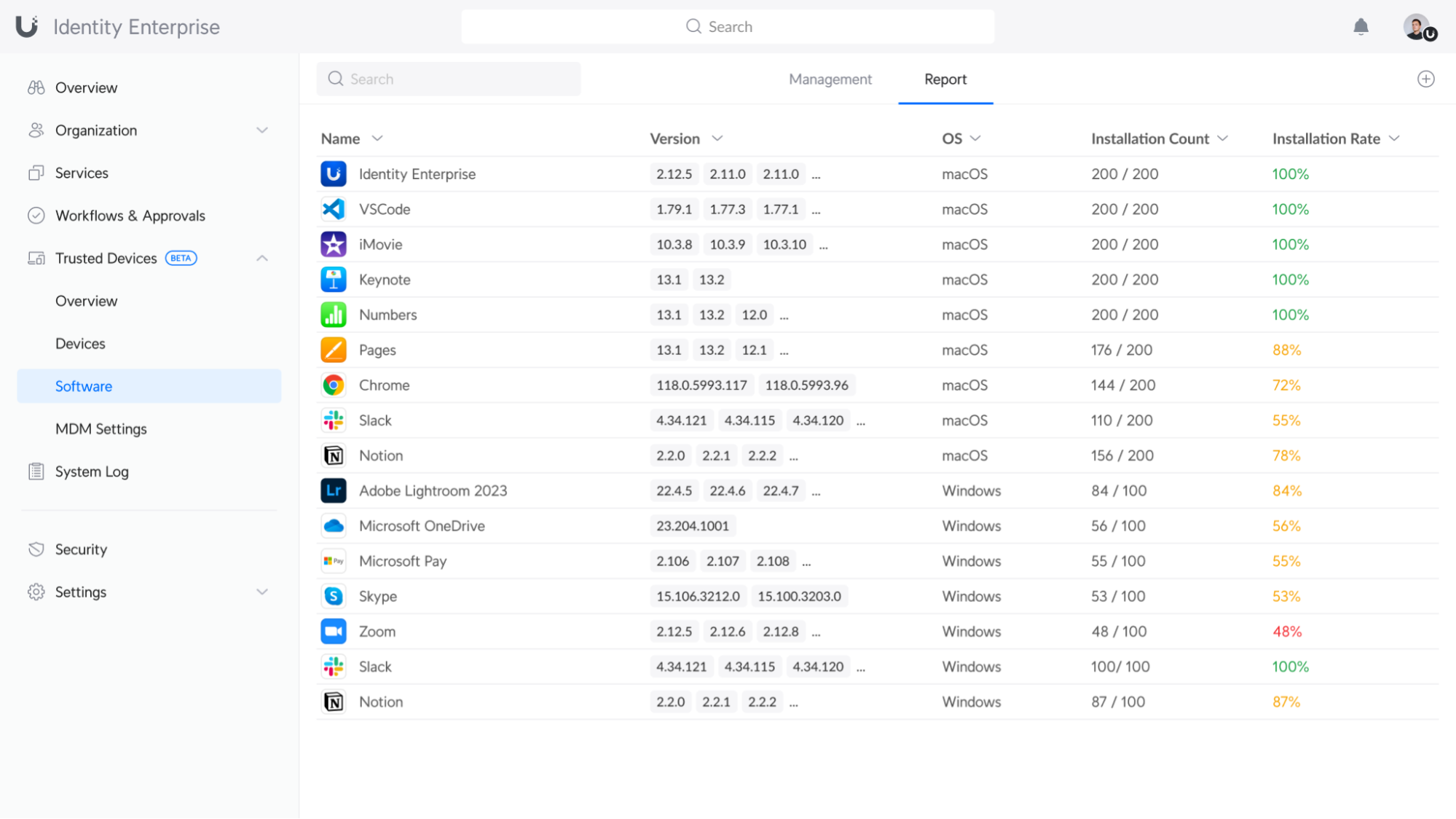 Detailed Audit Logs
Identity Enterprise provides detailed records of admin activity on an MDM-enrolled device, aiding in troubleshooting and serving as a security measure.
Common Scenario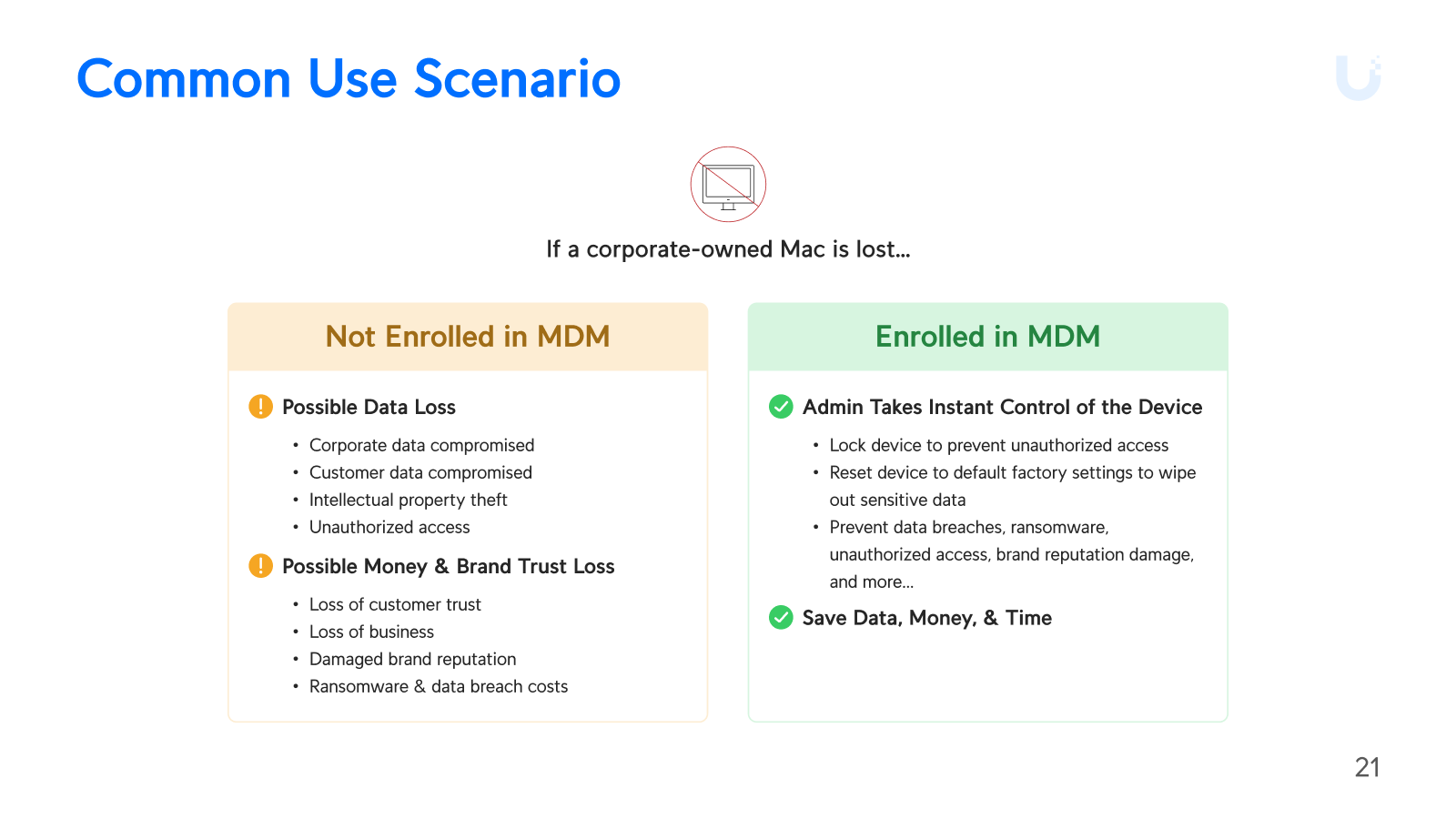 Summary
A quality MDM solution enhances the security of both corporate-owned devices and personal devices used for work. Identity Enterprise goes beyond a standard MDM solution, offering additional powerful features such as network, door access, SSO apps, and more, providing a secure and comprehensive solution for organizations.  Learn more about Identity Enterprise MDM
Was this article helpful?
0 out of 0 found this helpful