Overview
This guide will go over the steps to enable the free remote access feature and management of UniFi devices from a locally installed controller. The Remote Access Dashboard for UniFi OS host devices can be accessed via unifi.ui.com. For UniFi Network Controller software running on computers or other third party hosts, please use network.unifi.ui.com.
NOTES & REQUIREMENTS:
A Ubiquiti account is needed to use remote access via the Remote Access Dashboard. This article will help if more information on how to create a Ubiquiti account is needed.
Table of Contents
Introduction
Users that have installed the UniFi Network Controller software, have created a Ubiquiti account and are connected to the internet, have the option to use remote access via the Remote Access Dashboard to access and manage multiple installations at one time even when they are not physically connected to any of those networks.
How to Enable Remote Access
Controller Host Devices (Dream Machines and Cloud Keys)
On current versions, remote access is enabled in the UniFi OS settings, not within the UniFi Network Controller. To enable follow these steps:
1. Type in your host device's IP address into a browser navigation bar (Chrome is recommended).
2. Select Advanced > Proceed to IP if a warning page appears.
3. Log in to UniFi OS using your Ubiquiti SSO credentials (as set in account.ui.com).
4. Go to Settings > Advanced and set the Remote Access toggle to the enabled position.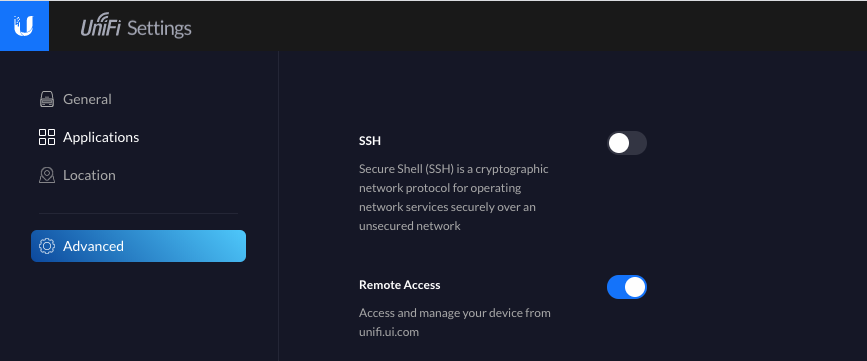 Note that after completing these steps Remote Access is enabled for all applications hosted on that device (e.g. UniFi Network, UniFi Protect, UniFi Access and UniFi Talk).
Software Installs (Windows, macOS, Linux/Debian systems)
1. Log into your local UniFi Network Controller as usual.
2. In Classic Settings navigate to Settings > Remote Access. In New Settings navigate to System Settings > Administration.
3. Turn the Enable Remote Access feature ON.

4. Enter your Remote Access Dashboard credentials on login request and select Enable Remote Access.
NOTE: If you have not yet created an account please do so now. Once an account is created you may need to return to Step 1 of this article.
If your UI.com account has two-factor authentication (2FA) enabled, you will have to provide the 2FA code to proceed.
5. Click on Apply Changes when you see that "Enable Remote Access" is "On", and your Remote Access Dashboard credentials are displayed in the "Configured For" section of the page and the status is "Connected":
How to Enable Local Login with Ubiquiti Account
When the Enable Local Login with UI Account (Sync Local Admin with Ubiquiti SSO) option is ON in the Settings > Remote Access section, the credentials from your Ubiquiti SSO account will be used for administrator accounts, so you would use your SSO credentials to log into your Controller. This option will only take effect after the "Apply Changes" button has been selected.
To revert these settings:
1. Turn the toggle of the Enable Local Login with UI Account option to the OFF position.
2. Select "Apply Changes".
3. Navigate to Settings > Admins.
4. Edit the admin account and revert the username and password.
5. The page will refresh and you can test your settings by visiting the Remote Access Dashboard: https://network.unifi.ui.com.
How to Enable Remote Access to UDM and UDM-PRO
1. On the UDM the remote access is enabled by default. You can provide remote access to another user to manage the UDM in Settings > Remote Access > Enable User Access.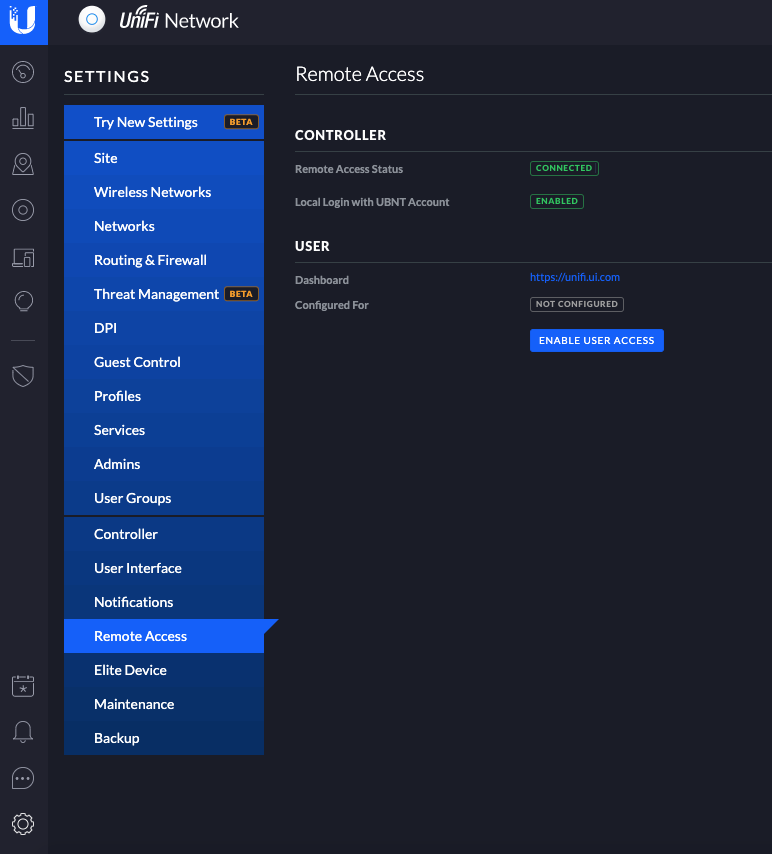 2. The UDM-PRO will not show this option on the Settings section because remote access is enabled by default and cannot be disabled.
3. For the UDM Pro you need to log in to https://unifi.ui.com/: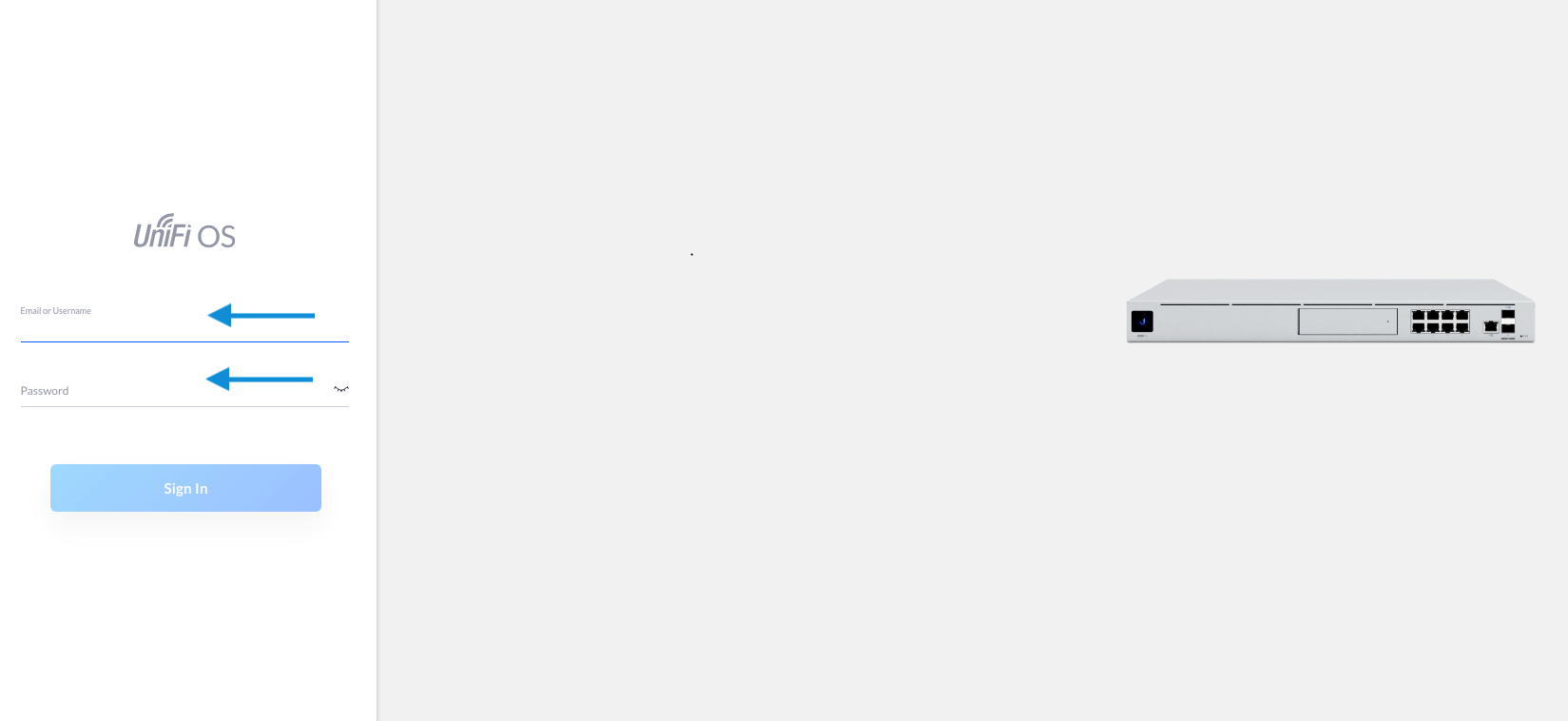 4. Log in with your Ubiquiti credentials, and go to the Users button located on the bottom right of screen as shown: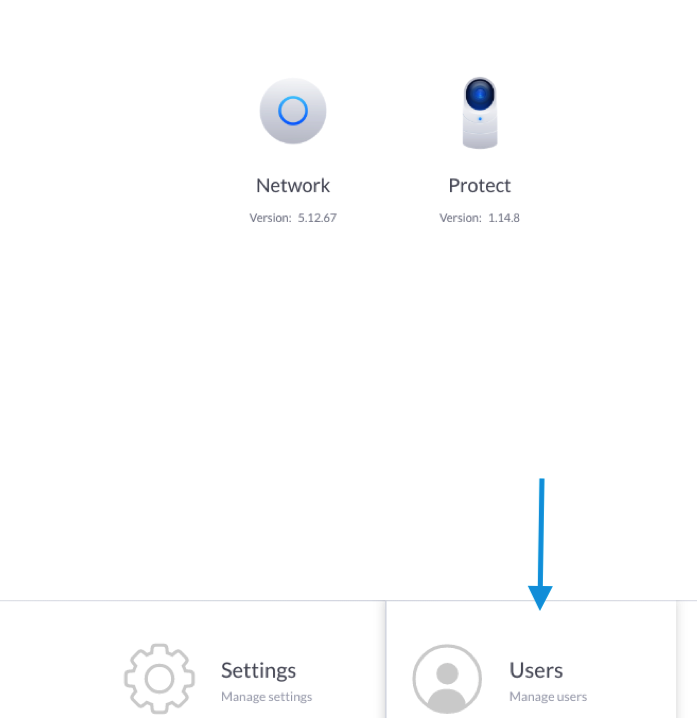 5. Use the Add User drop down in the upper, right corner: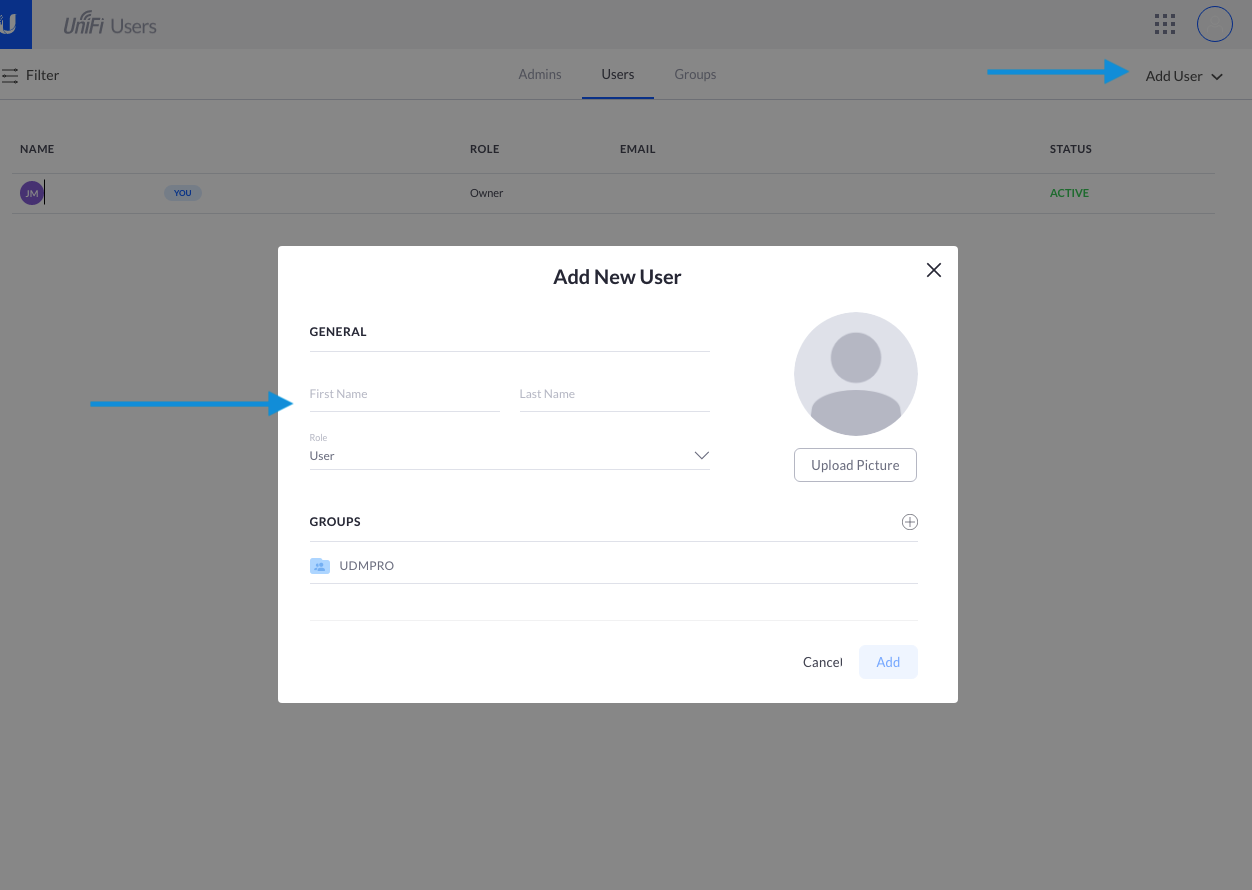 6. Finally, click on Add and then verify that the new user accepts the invitation sent via email.
Testing & Verification
1. To confirm you have remote access, log in to the Remote Access Dashboard (unifi.ui.com) with your SSO Ubiquiti credentials.
2. Your local controller should be displayed with a computer icon like the one for demo.ui.com in the screenshot below, and the controllers with remote access enabled will have a cloud icon:

3. Access your Controller by clicking "Launch" in the Actions column. And then select if you wish to launch using Cloud (remote access), launch using hostname of controller or launch using IP of controller.
Related Articles
UniFi - Layer 3 Adoption for Remote UniFi Controllers
UniFi - Accounts and Passwords for Controller, Cloud Key and Other Devices