Overview
This is an introductory article on the Hierarchical Network Topology utilizing different layers.
NOTES:
Find a complete introductory guide on Routing and Switching in our Ubiquiti Broadband Routing & Switching Specialist (UBRSS) guide, downloadable in our
Training
section.
Introduction to Designing Networks
The Hierarchical Networking model is a strategic design implemented by enterprise and service provider networks for best performance and efficient hardware management at deployment sites. The following tenants are crucial when designing networks:
Segmentation The physical and logical segmentation of network areas for purposes of controlling traffic, through conscious hardware choices and proper device configurations (e.g., VLANs, Port Isolation).
Bandwidth Present and future consideration of downstream and upstream traffic requirements at various points in the network, emphasizing efficiency while avoiding traffic 'bottlenecks' (e.g. Fiber switch core/backhaul, traffic shaping controls).
After designing a purpose-driven network topology, Ubiquiti strongly recommends reviewing product datasheets to ensure that proposed hardware meets the requirements of the intended network. Networking equipment is generally categorized and deployed across 3-4 different hierarchical layers:
Edge Firewalls or routers (sometimes switches) sitting at WAN or MAN boundaries of networks, sometimes as dedicated hardware.
Core/Aggregation Ultra-high performance switches and routers, primarily concerned with Layer-2 switching or Layer-3 packet functions.
Distribution High performance switches (sometimes routers) handling traffic for vital functions and services (e.g. DNS, Controllers).
Access Switches connecting data devices and users to the network, commonly utilizing high upstream links.
The example diagram below shows a Hierarchical Network Topology utilizing different Ubiquiti devices: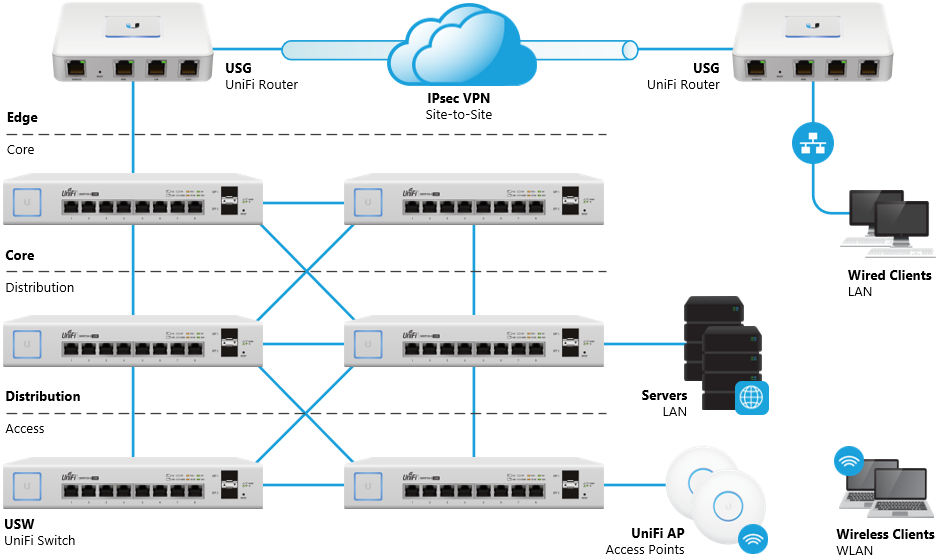 Core, Distribution, and Access (as well as Edge) layers comprise the Hierarchical Network Topology.
Related Articles